Bikable Trails of the Baylands: From Dumbarton to Sunnyvale
<![if !supportEmptyParas]><![endif]>Large areas of the south bay, currently used for commercial salt production, may be returned to natural salt marsh as compensation for the environmental damage from the planned expansion of SFO. This map is a guide for the people planning this transition and for people who enjoy riding bicylces. The many miles of levees in the area have bikable roads and trails that should be maintained, and in many cases opened to the public, when the area is taken out of salt production.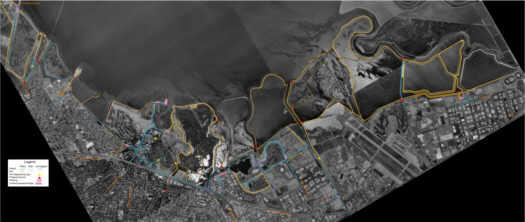 Mapping the bikable trails was guided by topographic maps and aerial photographs from the USGS, street maps, park maps, as well as a lot of pedaling around and taking notes. Click this thumbnail to see the full-size map (475 K).
DISCLAIMERS: This map is not entirely accurate. Do not depend on it to avoid getting lost or into restricted or otherwise dangerous areas. Private and restricted areas are included because it is important for planners to be aware of potential public bike paths that can be opened in the future--publishing this map is not encouragement to trespass. Dirt roads and paths are often impassible in the rainy season and many require knobby tires even at the best of times.
How to read the map: click here for an explanation of the symbols.
<![if !supportEmptyParas]>Printing the map: click here to select page-size PDFs to print.
Comments, suggestions and questions are invited at biketrails@newmannet.com.
This site and all the maps are Copyright © 2000 Newman Networking Associates. All rights reserved. Feel free to print copies for personal use.